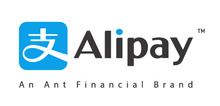 Alipay (支付宝 - zhīfùbǎo) is an escrow service provided by Alibaba, a Hangzhou-based e-commerce business. Such a service can be a huge advantage in China, where consumer protection laws are extremely basic and generally do not protect the customer after purchase. Alipay's strength lies in its security and the fact that the funds are only released once the customer is satisfied.
For all intents and purposes, Alipay is the Chinese equivalent of Paypal, and can be used to pay for products for over 400,000 different Chinese businesses, including popular online shopping sites such as Taobao, jd.com (formerly 360buy.com), Tmall and Newegg - look for the Alipay logo (right). You can also use Alipay to pay utility bills, top up your mobile phone, or send money to anybody else with an Alipay account.
With over 700 million registered accounts, Alipay has the biggest market share in China by far. They have partnered with over 200 financial institutions (including Visa and Mastercard) and support transactions in 18 major foreign currencies. The longer you live in China, the more advantageous it becomes to have an Alipay account and the knowledge of how to use it.
For regular Alipay users, there are Alipay mobile apps available for free for Android and iOS, allowing you to make payments on the move.
Setting up your Alipay account
Setting up an Alipay account can be tricky, especially if your Chinese reading skills are not up to par. The process gets updated regularly and with some of the latests updates it is now fairly simple to Set Up a Verified Alipay Account as a foreigner using your Chinese Bank Account. However, /r/shanghai user /u/Nick_Beaumont has very helpfully written an excellent (and detailed) guide on how to get started on Alipay, which you can find here. Another great regularly updated guide on how to use your Chinese Bank account to set up a Verified Alipay account can be found here. All you need to get started is a Chinese bank account with online banking set up, and a phone number.
The guide is split into 3 parts - setting up your Alipay account, adding funds to your Alipay account, and using your Alipay account to purchase items online.