Shanghai's public transportation is vast, generally considered to be excellent, and is cheaper by far than the public transportation systems in most cities of equivalent size. In fact, Shanghai has plenty to boast about in terms of public transport: it has the world's first commercially operated high-speed magnetic levitation train (the Maglev, which reaches speeds of 431km/h or 268m/h); one of the longest metro systems in the world (around 434km (270 miles) of track over 12 lines and 254 stations); and also the most extensive bus network in the world (almost 1,000 bus routes).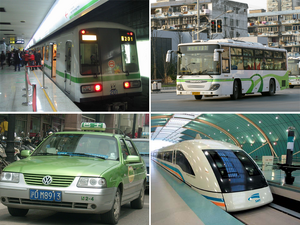 Main article: Metro
Shanghai's metro system covers a wide area of the city and its outskirts, and is extremely cheap compared with most subway systems around the world.
Main article: Maglev
The Maglev is the world's first commercial magnetic levitation train, shuttling people between Longyang Lu station and Pudong International Airport in around 8 minutes. The same journey on the Metro takes around 45 minutes.
Main article: Taxis
Taxis in Shanghai are almost invariably cheaper than cabs in other cities of comparable size. However, Shanghai is not always the most pleasant place to drive, and the atmosphere between cars on the roads is somewhat competitive, to say the least.
Main article: Buses
Shanghai's bus system is among, if not the, biggest bus network of any city in the world, with over 1,000 lines run by more than 10 bus companies. Shanghai also has the oldest trolleybus system in the world.
Main article: Cycling
Shanghai's lack of hills makes it an ideal city to get from A to B on a bike, and every day you see thousands of the city's inhabitants riding around on bicycles and scooters. However, the lack of dedicated cycling lanes, the vast number of careless drivers on the roads, and the prevalence of bike theft make cycling in Shanghai something of a double-edged sword.
Main article: Shanghai Public Transport Card
An indispensable tool for navigating Shanghai's public transport is the Shanghai Public Transport Card (交通卡 - jiāotōng kǎ, "transport card"), a swipe card that can be topped up with credit and used on the metro, buses, taxis, Maglev and other places.
---
You can check out the Shanghai Transport Tips thread in /r/shanghai for more tips and tricks on navigating Shanghai's public transportation options like a pro.
Community content is available under
CC-BY-SA
unless otherwise noted.