Shanghai's Maglev train
(磁悬浮 -
cíxuánfú
) is the first high-speed commercially-run magnetic levitation train in the world, and is an impressive feat of engineering. It runs from Pudong International Airport (PVG) to the terminal station at Longyang Road.
At Longyang Road you can then change to the metro (lines  2  and  7 ), or catch a taxi just outside the station.
The Maglev began operation on January 1st 2004, and cost USD $1.2 billion to build.
Timetable
The Maglev runs every 15-20 minutes between the hours of 6:45am to 9:30pm. The top speed and journey time varies between peak and off-peak times:
Time
Top speed
Journey time
9:00am - 10:45am
1:00pm - 4:45pm
431 km/h (268 m/h)
7 minutes 20 seconds
6:45am - 9:30am
10:45am - 1:00pm
4:45pm - 9:30pm
301 km/h (187 m/h)
8 minutes 10 seconds
Tickets and pricing
A one-way ticket on the Maglev costs 50 RMB. However, it is only 40 RMB if you use your transport card, or present proof that you are flying or have flown on that day when buying your ticket (a printed travel itinerary or flight ticket receipt is enough, or a boarding pass stub).
You can also buy a return ticket from the ticket office - the return trip is valid for 7 days after the outgoing journey. A return ticket simply costs double the price of a single ticket, however, so there is little incentive unless you want to avoid the ticket office on the way back.
Regular fliers may find it useful to know that you can also purchase a 30-trip Maglev pass from the ticket office for 900 RMB, which works out at the discounted price of 30 RMB per trip. The Maglev pass is valid for 1 year after purchase.
You can also buy a VIP ticket for double the normal price (100 RMB / 80 RMB with transport card or proof of air travel). This allows you to sit at the front of the train, where the cabin interior is a little nicer (see image in slideshow below). Other than that there is no difference, so unless 8 minutes of slightly increased comfort is particularly important to you, the extra expense of a VIP ticket is pretty pointless.
If you need to buy a ticket, purchase it at the kiosk at the Maglev station at either Longyang Road or the airport; otherwise you can just scan your transport card at the turnstiles as usual.
Children under 1.2 metres in height can travel on the Maglev for free.
Be aware that you'll have to scan all luggage before being allowed through the turnstiles.
A common tourist photo opportunity is getting a shot of you standing underneath one of the speed indicators at the front and rear of each cabin when the train hits its top speed.
Maglev vs Metro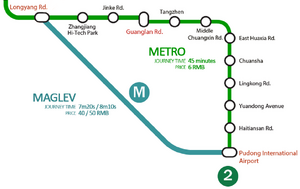 The Maglev is an alternative to taking metro line 2, which also runs from Longyang Road to Pudong Airport.
Although around 8 times the price of the equivalent subway journey (40 RMB vs 6 RMB), the Maglev takes a fraction of the time: the line  2  metro route takes around 45-50 minutes and includes a change at Guanglan Road, whereas the Maglev takes around 8 minutes and is direct.
Community content is available under
CC-BY-SA
unless otherwise noted.