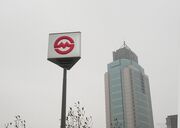 Opened in 1995, Shanghai's metro system (地铁 - dìtiě) has 12 lines and incorporates both subway and light rail lines. Compared with most metro systems in the world, the Shanghai metro is very cheap, very clean, and rarely suffers from delays.
With 364 stations and an operating route length of 588 km (365.4 mi), the Shanghai Metro is the world's largest metro system by length. In terms of number of rides per year, Shanghai's is the 2nd busiest subway system in the world, after Beijing. Approximately 9 million people use Shanghai's subway system on any given workday.
Shanghai's subway system is China's third oldest, after Beijing and Tianjin. Construction began in 1986 and the system opened in 1993.
The subway also provides a link to the Maglev, a high-speed magnetic levitation train that runs from Longyang Lu station to Pudong International Airport.
Metro Map
There's an excellent interactive map of the Shanghai metro at exploreshanghai.com. If you're looking for a mobile solution, the same map is available for iPhone/iPad/iPod Touch ($1.99 / £0.99) and Android phones (free). The app is regularly updated to include new stations, and also tells you each journey's price and the most efficient way to get there.
Tickets and pricing
For most metro lines, the minimum fare is 3 RMB for journeys under 6km, then 1 RMB for each additional 10km. The exception to this is line  

5

  (Xinzhuang – Minhang Development Zone), where the minimum fare is 2 RMB for journeys under 6km, and all other journeys are 3 RMB.
You get a reward if you're a frequent metro user: if you spend 70 RMB on the metro on the same card within a month, all metro fares for the remainder of the month are discounted by 10%. Note that only transport card holders qualify for this discount.
For non transport card users, you can buy tickets at the ticket machines in stations: press the "English" button to get the interface in English. Select the station you are travelling to and it will tell you how much money to insert. Once you have your ticket, you place it on the scanner on your way in through the entry turnstile. Once you arrive at your destination station, insert the ticket into the slot on the exit turnstile.
You can also buy a one-day pass from the kiosks at Metro stations. They cost 18 RMB each and are good for unlimited metro use for one calendar day.
Stations and interchanges
It may be helpful to know the major interchange stations in Shanghai:
Station name (English)
Station name (Chinese)
Lines
Century Avenue
世纪大道 - shìjì dàdào
 

2

   

4

   

6

   

9

 
People's Square
人民广场 - rénmín guǎngchǎng
 

1

   

2

   

8

 
Shanghai Railway Station
上海火车站 - shànghǎi huǒchēzhàn
 1   

3

   

4

 
Zhongshan Park
中山公园 - zhōngshān gōngyuán
 

2

   

3

   

4

 
Note that there are two kinds of interchange on the Shanghai Metro:

Physical interchanges, where you can simply walk straight from the train to the platform of your desired line with no extra fee. Most interchanges are physical interchanges.
Virtual interchanges, which involve going through the fare barriers again before changing over to the new line.

If you have a transport card you can do up to 3 virtual interchanges and only pay a single fare, but you must do all interchanges within a 90 minute period, else you have to pay a new fare.
Those who purchase tickets for individual journeys currently have to buy a new ticket at virtual interchanges.
Current virtual interchanges are:
It should be noted that virtual interchanges will eventually become physical interchanges with direct walkways from platform to platform, but right now the current infrastructure and construction of new lines does not allow it.
Be wary that line changes at some stations are far quicker and more convenient than others: for example, Century Avenue has interchanges to all 4 lines very close to one another - a 2-minute walk at most. However, changing from line  

2

  to lines  

1

  or  

8

  at People's Square involves about a 5-minute walk (though is still a physical interchange). Some other interchanges (such as the line  

1

  to line  

10

  interchange at Shǎnxī Nán Lù, which is a virtual interchange) are even more involved, and require you to use surface streets to transfer. When planning your journey, take this into account, as well as the fact that some lines have trains arriving more regularly than others.
Metro expansion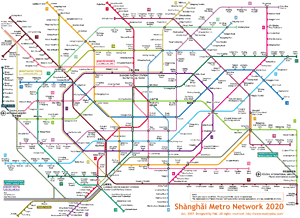 Shanghai has one of the fastest growing metro systems in the world, with several new lines planned to be completed by the year 2020. To learn more about the proposed stations and lines and when they are expected to be completed, check the relevant section of the Wikipedia article.
Community content is available under
CC-BY-SA
unless otherwise noted.