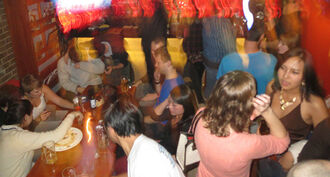 NOTE:
Monthly meets organised by the mods
no longer take place
, so a lot of the information in this article is out of date. We still encourage people to arrange their own meets, and meet threads are pinned to the top of the subreddit.
/r/shanghai moderators no longer organise them on a monthly basis.
Since June 2010, /r/shanghai has held monthly meets organised by the moderators. However, nowadays we encourage users to use the subreddit to organise their own meets - so if you want to organise your own, pick a time and place for people to meet and make a post on the subreddit with all the details. Generally speaking, if you build it, they will come. If you have no firm plan and ask everybody else to decide when and where to meet, it will probably never happen.
When are the meets?
They don't take place on a monthly basis any more, but the monthly meets fell on the 3rd or 4th Saturday of each month, and started around 6pm.
Where do they take place?
The location of the meets has changed regularly over the past couple of years (see below for a full list of locations and dates). Each meet is organised in a separate thread, and an announcement and banner are placed on the front page of /r/shanghai.
Generally speaking, meets are held at a bar near the centre of the city (usually somewhere in Xuhui or Jing'an). The most important factors considered for the location are how easy it is to get to, and how cheap the drinks are.
Why did you organise these meets?
Why not? The meets have been a great way for people in Shanghai to meet new people, and have been instrumental in getting the word around about the subreddit and increasing the number of subscribers to /r/shanghai.
Everybody is welcome to attend the meets, whether it's your first week in Shanghai, or you've lived here all your life. If you'd like to come to the next meet, then check out the most recent meet thread. These are usually put up 1 or 2 weeks before the meet is scheduled to take place, and will contain all the relevant details.
How many people come to the meets?
It varies from month to month, but generally speaking around 30-50 people attend each meet over the course of the whole evening, with people arriving and leaving throughout. Usually around half those people are first timers, and everybody else a regular or semi-regular. So don't be nervous if it's your first time, come along and meet other redditors!
During the times of year when there is a big influx of foreigners into the city (e.g. May/June, when many teachers and students arrive for the new semester), the meets tend to be a little more crowded.
Can I organise my own meet?
Yes! For example, if you want to have a video game or board game night, or want to go go-karting or paintballing, or whatever else - feel free to make a submission on /r/shanghai and see if others are interested. If there's enough interest and you decide to go ahead with it, pick a date, time and location and send a private message with the details to kinggimped, who can put a note in the subreddit header to let more people know about it.
So far, we have had Dungeons & Dragons, Diplomacy, Magic: The Gathering and sports "mini-meets", but so long as there's enough interest you can make your own "mini-meet" for anything.
Meet history
For posterity, the details for the first 27 /r/shanghai meets are below. There have been many other meets since, but we stopped logging them after the mods stopped arranging the meets.
Community content is available under
CC-BY-SA
unless otherwise noted.