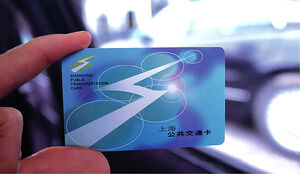 One must-have item in your wallet for getting around Shanghai is the
Shanghai Public Transportation Card
(commonly known as a 交通卡 -
jiāotōng kǎ
, "transport card"), which is very similar to London's
Oyster card
or Hong Kong's
Octopus card
. This magnetic card can be used on
buses
, the
metro
,
taxis
, the
Maglev
, and a few other places (such as ferries and car parks).
The card is also known as the SPTC, or 上海公共交通卡 - Shànghǎi gōnggòng jiāotōng kǎ, or 交通一卡通 - jiāotōng yī kǎtōng.
You can purchase a transport card at a kiosk in any metro station: it's a 20 RMB deposit, which will be returned to you if you give the card back.
You can top up the card with credit (in multiples of 10 RMB) inside any metro station (look for the service kiosk), or in selected convenience stores and banks around the city.
The card also carries with it extra advantages in the form of two discounts:

The interchange discount, which gives 1 RMB off the second fare if the user takes 2 buses or metro trains within a 90 minute period. This discount also applies to bus-to-metro and metro-to-bus transfers.
The frequent metro discount, which discounts all metro fares by 10% for the remainder of the month when the user has spent 70 RMB on the same card before the end of the calendar month.
These discounts stack, with the frequent metro discount applied first: for example, a 4 RMB metro fare with both discounts applied (i.e. the user has spent more than 70 RMB so far that month and this journey is the 2nd metro fare levied within the past 90 minutes) becomes 2.6 RMB (10% frequent metro discount on 4 RMB = 3.6 RMB, plus 1 RMB interchange discount = 2.6 RMB total).
Community content is available under
CC-BY-SA
unless otherwise noted.