What is /r/shanghai?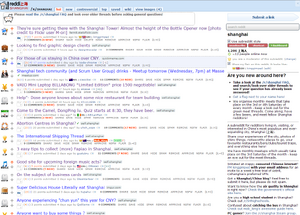 /r/shanghai
is a community on the social bookmarking and news site
Reddit
that is dedicated to China's most populous city (and the
largest city proper in the world
): Shanghai.
The Shanghai subreddit was founded by tauon in 2010, it quickly became a repository for spam, and was eventually banned by Reddit's spam filter. However, kinggimped rescued the subreddit and worked to get /r/shanghai off the ground and active. Over the last two years the subreddit has gone from 4 subscribers to over 1,400 at the time of writing (figure correct as of March 2013).
In May 2012, Mob_King was added to the moderator roster in order to help out with the moderation duties as the subreddit continued to grow.
Subreddit rules
Main article: Subreddit rules
/r/shanghai is a pretty laid back place, but we do have a few general rules for new posters to consider. Check them out here.
Monthly meets
Main article: Monthly meets
The moderators of /r/shanghai arrange monthly meets, which usually take place on the 3rd or 4th Saturday of each month. Meets are a great place to meet fellow redditors in the city.
Meet threads are generally announced a week or two in advance, and are highlighted on /r/shanghai in green text. All are welcome to come along!
Purpose of this FAQ
/r/shanghai is an ever-growing community, and as is usually the case with regional subreddits, the same questions are often asked because users don't often search before posting. The most-asked questions in /r/shanghai are generally from people who are visiting the city and want to know which places are worth seeing, or where other redditors would recommend going out to eat or to enjoy Shanghai's nightlife. This FAQ aims to collate a lot of general Shanghai knowledge in order to help those with these kinds of general questions, as well as provide plenty of other helpful information such as useful Chinese phrases, notable cultural differences, common scams, etc.
If you have a topic that you think should be represented in the FAQ, please feel free to post a thread on /r/shanghai.
Community content is available under
CC-BY-SA
unless otherwise noted.