Shanghai's climate is classified as a humid subtropical climate. Even though there are 4 distinct seasons in Shanghai, spring and autumn are comparatively fleeting.
For more detailed information and statistics, check out Wikipedia's article on Shanghai's climate or Shanghai's entry on climatemps.com. For a brief guide to Shanghai's four seasons, keep reading.
The seasons
Winter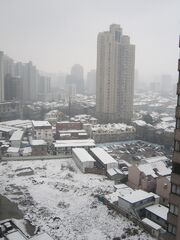 Winters here are generally cold and damp.
Snow is rare (maybe 1 or 2 days a year, and it rarely settles), but the temperature will regularly drop below 0ºC (32ºF) at night due to cold winds coming in from Siberia.
Shanghai winters are long, with the cold weather usually starting in November and lasting well into March.
Spring
Spring and autumn are Shanghai's most pleasant seasons, but each one generally only occupies a 3 or 4-week window during the year: spring generally falls from mid to late April and lasts until mid May, during which time temperatures are comfortable at around 20-25ºC (68-77ºF) with occasional rain.
A phenomenon native to spring in the Yangzte delta region is the rainy season, known as "plum rains" (梅雨期 - méiyǔ qí) or "yellow plum season" (黄梅季 - huángméi jì) in Chinese. Beginning around mid-May and in some years continuing into July, temperatures hover around 28-33ºC (82-91ºF), and the high humidity brings increased - sometimes incessant - rainfall. This can make mundane tasks such as drying laundry difficult for those without tumble dryers in their apartments. Check out these threads on /r/shanghai for good discussions of drying clothes and battling mould during this time of year.
Summer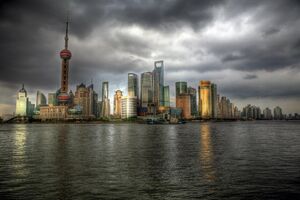 Shanghai's summers are hot and humid, with temperatures regularly over 30ºC (86ºF), and 8.7 days per year on average above 35ºC (95ºF). Summers are Shanghai's wettest season: you should expect occasional downpours and thunderstorms, though generally not on the same scale or frequency as tropical climates like Singapore.
Occasionally in summer or autumn Shanghai experiences typhoons - while they can be disruptive, these are rare and generally cause no major damage. Typhoons do, however, have the added benefit of blowing away a lot of the air pollution and grant us some of the clearest skies you'll see all year. soweather.com is a site worth bookmarking for notifications on any serious weather conditions in Shanghai.
Shanghai summers are long: the temperature generally starts to rise in mid May and stays warm well into October.
Autumn/Fall
Like spring, autumn is comparatively fleeting compared with winter or summer, with a 3 or 4-week window usually occurring in mid to late September and going well into October. The climate during this time is similar to spring, but a little warmer and with less rainfall.
Annual monthly averages
Source: MSN Weather